SMART
No categories
VideoCentric are highly trained and certified to provide SMART interactive technologies for your organisation. VideoCentric have been supplying and installing SMART Technology for over 10 years in both the public and private sector, and are highly experienced in the integration of SMART Boards within a business or healthcare environment, alongside the more common SMART education applications.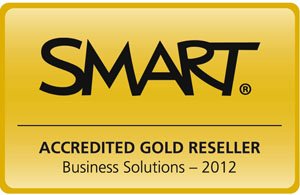 VideoCentric are certified in Sales, Technical and Installation and specialise in integration with Video Conferencing and telepresence, multiway collaboration and development of interactive solutions for the industry. We have a portfolio of 12 certified trainers located across the UK, and can provide certified SMART training for your users, administrators and trainers. We also have SMART demonstration locations in 5 locations across the UK – speak to us today to arrange a visit and demonstration of the world's most collaborative interactive technologies.
About SMART Technologies
SMART Technologies is the world leader in interactive technologies and has a wide portfolio of interactive products including interactive whiteboards, LCD displays, podium pen displays, response systems, tables, slates, document cameras and screen overlays. SMART also supplies software and resources for education and business, including idea mapping, collaborative learning, maths tools, meeting scheduling, technology management, conferencing and collaboration software.
Products recommended for business and healthcare applications include the SMART 800 Interactive Whiteboard Series (incluiding the SMART 885ix system), the SMART 8065i Interactive Display, SMART Bridgit Collaboration Solutions, SMART Meeting Pro software and the new SMART Kapp interactive flipboard series. 
Featured Products & Solutions
Related Services
Products & Solutions