The Polycom HDX 7000 is now end-of-life. Remember – VideoCentric offer fantastic part exchange deals if you trade-in with us – you can get 50% off SRP for your new Poly (Polycom + Plantronics) system – get in touch now to find out more.
The Polycom HDX 7000 Series provides flexible, affordable High Definition video conferencing for high quality communication through the workplace. Expanding the use of visual communications quickly and easily, the Polycom HDX 7000 series systems are ideal for education, medical, enterprise and on demand collaboration applications.
HD Video – N

atural 

communications up to 

1920 x 1080 at 30 fps

HD Voice – Polycom Siren 22 and StereoSurround technology
HD Content Sharing
Embedded 4 way multipoint bridge (optional)
Optional H.320 interfaces
 Poly: Plantronics and Polycom, combined 
Enhancing Collaboration with HD Technology
Intuitive interfaces allow users to adopt and use Polycom HDX 7000 Series systems quickly, while a variety of bundle options enable the Polycom HDX 7000 Series systems to be wall-mounted, free-standing or easily wheeled to any location to accommodate visual communication in any room. With embedded multipoint and content sharing capabilities, Polycom HDX 7000 Series systems allow individuals to collaborate in HD detail on content such as diagrams, project plans, multimedia presentations and more. Leveraging Polycom's renowned quality and designed to high-definition standards, Polycom HDX 7000 Series systems utilize features such as Polycom HD Voice™ technology to deliver patented, crystal-clear audio and Polycom StereoSurround™ audio to separate room sounds into left and right channels
to deliver physical-sense spatiality to opposite-end participants.
Rich-Media Presentations Made Easy
For rich-media group presentations, HDX 7000 telepresence systems display dynamic content and data in HD to enhance collaboration and audience participation. With Polycom® People+Content™ collaboration technology, users can share presentations and live video simultaneously, allowing conference participants to interact naturally and dynamically. Polycom HDX 7000 series are a key element of the total Polycom visual
communication solution, which includes seamless integration with the Polycom® RealPresence® Collaboration Servers series conference platforms, as well as with Polycom® Converged Management Application™ series for management and scheduling.
The Polycom HDX Series
In today's fast-paced world, it is more critical than ever for organizations to adapt quickly and communicate seamlessly both internally and externally. Whether negotiating complex business agreements or helping employee tiger teams to speed their decision making, what frequently separates winning organizations from the pack is their ability to deliver tools that maximize productivity.
With Polycom HDX solutions, connecting and collaborating visually with anyone across your organization is as easy as making a phone call. The Polycom HDX Series connects your people and enhances their collaboration. Whether you are holding a simple interview across campus or staging a large project team meeting with members dispersed across the globe, there are HDX solutions that fit the bill.
Polycom HDX Solutions deliver:
Flexible, cost-effective, high-definition communications from low bandwidths using standards-based H.264 High Profile technology
Polycom UltimateHD technology: HD voice, HD video, and HD content for exceptional performance
Natural whiteboarding collaboration with Polycom VisualBoard Technology that is embedded into many HDX systems
Breakthrough voice locating technology with the optional EagleEye Director allows users to have a truly in-person experience in any size conference room
Increased usability and simplicity, with the optional Polycom Touch Control giving users total control at their fingertips
Patent-pending Polycom SmartPairing™ technology makes it simple to use your own tablet to start and manage video calls
Polycom's Packaged Solutions offer a single part number for the entire package for monitors, audio equipment and video system
Why VideoCentric?
VideoCentric's partnership with Polycom is built on a very strong and well established relationship built over many years of sales, integration, solution development & infrastructure support. VideoCentric are fully accredited with Polycom and hold certifications including Video Conferencing Solutions, RealPresence Infrastructure and Video Border Proxy (security). VideoCentric have specialists fully trained in Polycom Sales and Technical tracks, Polycom RealPresence and Polycom Video Networking. VideoCentric have scooped top Polycom awards for their extensive support and services offered to customers.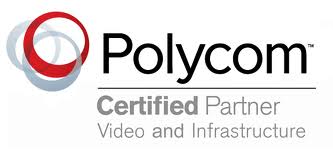 VideoCentric have a full suite of Polycom Video Conferencing Endpoints and Infrastructure Components for customers to see in action at their comprehensive Video Conferencing Demonstration Facilities in Wokingham, Berkshire. VideoCentric can also bring Polycom video solutions to your premise for demonstration from our experts, or organise a live remote demonstration session with multiple locations around the globe.  Many Polycom solutions can also be hired, leased or trialled on a daily, weekly or monthly basis.
Contact VideoCentric today to find out more about the Polycom HDX 7000, or to organise a demonstration at your premises.
Techsheets
Package Includes
Polycom EagleEye III camera, codec, HDX Microphone Aray, 4 Mbps point-to-point, People+Content, People+Content IP, cables and remote control

Video Standards and Protocols
H.264, H.264 High Profile, H.263++, H.261
H.239 / Polycom People+Content
H.263 & H.264 Video Error Concealment

Video Input
1 x EagleEye HD camera
1 x S-Video
1 x DVI-I

Video Out
2 x DVI-I HD video out
1 x S-Video

People Video Resolution
720p, 30 fps from 512 Kbps
720p, 60 fps from 832 Kbps
1080p, 30 fps from 1024 Kbps
4SIF/4CIF, 30 fps from 128 Kbps
4SIF/4CIF, 60 fps from 512 Kbps
SIF (352 x 240), CIF (352 x 288)
QSIF (176 x 120), QCIF (176 x 144)

Content Video Resolution
Input: WSXGA+ (1680 x 1050), SXGA (1280 x 1024), HD (1280 x 720), XGA (1024 x 768), SVGA (800 x 600), VGA (640 x 480)
Output: 720p (1280 x 720), 1080 (1920 x 1080), XGA (1024 x 768), SVGA (800 x 600)
Content Frame Rate: 30 fps
Content Sharing: People+Contentâ"¢ and People+Content IP

Camera
Polycom EagleEye III Camera
SMPTE 296M 1280 x 720p60 SMPTE 274M 1920 x 1080p, 60/50
12X optical zoom
72° FOV min

Audio Input
2 HDX microphone arrays supported
1 x Line-level stereo in (RCA)
1 x 3.5mm stereo mini (PC Audio)
1 x VCR / DVD stereo audio-in (RCA)

Audio Standards and Protocols
Polycom StereoSurround
22 kHz bandwidth with Polycom Siren 22
14 kHz bandwidth with Polycom Siren 14, G.722.1 Annex C
7 kHz bandwidth with G.722, G.722.1
3.4 kHz bandwidth with G.711, G.728, G.729A

Audio Standards and Protocols
Automatic gain control
Automatic noise suppression
Keyboard noise reduction
Live music mode
Instant adaptation echo cancellation
Audio error concealment
Siren Lost Packet Recovery (LPR) technology
Other ITU-Supported Standards
H.221, H224/H.281, H.323 Annex Q, H.225, H.245, H.241, H.331, H.239, H.231, H.243, H.460, BONDING Mode 1

Network
Polycom iPriority for QoS
Interfaces
2-port 10/100 auto NIC switch (RJ45)
H.323 and/or SIP up to 4 Mbps
Polycom Lost Packet Recoveryâ"¢ (LPRâ"¢)
Reconfigurable MTU size (IP only)
RS232
Camera control
Data pass-through
Audio mixer control
H.320 (Optional)
ISDN Quad BRI, PRI T1 or E1
Serial (RS449, V.35 RS530 with RS366 dialing)
Auto SPID detection and line number configuration
Microsoft® Office Communications Server 2007 integration

User Interface
Directory services
System management
Web-based
SNMP
Polycom Coverged Mangement Applications (CMA)
CDR
International languages (17)
Wildcard language tool
USB software update

Security
Secure Web
Security mode
AES FIPS 197, H.235V3 and H.233/234
FIPS 140-2 Validation Certificate (#918)
IPv6 (DISA)
www.polycom.com/govcerts
Secure password authentication

Options
Polycom EagleEye View camera
MPPlus software for up to 4 sites (SDCP)
Network interface modules
IP 7000 speakerphone integration
Polycom HDX Media Center options
Polycom SoundStructure

Electrical
Auto sensing power supply
Typical operating voltage/power
189VA @ 115V @ 60 Hz @ .67 PF
192VA @ 230V @ 60 Hz @ .66 PF
196VA @ 230V @ 50 Hz @ .65 PF

Environmental Specification
Operating temperature: 0-40°C
Operating humidity: 10%
Non-operating temperature: -40°-70°C
Non-operating humidity
(non-condensing): 10-90%
Maximum altitude: 10,000 feet

Physical Characteristics
HDX 7000 base box with removable stand
- 13.9" x 5.1" x 11" (H/W/D standing)

Warranty
One-year return to factory parts and labour