SMART Board® 885ix interactive whiteboard for Business
Enhance your teams collaboration with natural, intuitive solutions from SMART Gold Partner, VideoCentric
The SMART 885ix Interactive Whiteboard System is part of the SMART 800 Series of Interactive Whiteboard Systems & SMART Freestorm solutions. The SMARTBoard 885ix system is an 87″ interactive whiteboard in 16:10 widescreen aspect, with an ultra short throw HD ready projector fitted directly above the whiteboard. The 885ix system comes with SMART GoWire auto-launch cable, a wall fitting, a set of SMART Pens and SMART Eraser and Meeting PRO Software.
Ultra-short throw projector
Virtually no glare/shadow
Multitouch – 2 users simulteneously
Widescreen aspect (16:10)
Includes Meeting Pro Software
Collaborate remotely with Bridgit Software
DESCRIPTION
A Tool to transform the way your team works together
The 885ix is an integrated system that combines an interactive whiteboard, a 3D- and HD-ready ultra-short-throw projector, an extended control panel, a multiuser Pen Tray, SMART Meeting Pro software and the SMART GoWire auto-launch cable. The natural user interface and innovative features encourage collaboration, which can help your business become more effective, efficient and productive.
Widescreen Interactive Whiteboard
Access 20% more workspace than a standard interactive whiteboard system. Ideal for businesses using widescreen laptops and monitors, the 885i5 system has an 87″ (221cm) interactive whiteboard and a projector that offers a 16:10 aspect ratio and native WXGA (1,280 x 800) widescreen resolution. You can attach a high definition camcorder, Blu-ray disc player or widescreen laptop to the extended control panel to give your meetings a true to life experience without the distractions of letterboxing or distortion.
The Projector (SMART UX80)
The UX80 ultra short throw projector, launched in 2013, is HD ready and provides 3,300 lumens, 65% more brightness than the previous UX60 projector. With a throw distance of approximately 0.3m (1ft), the UX80 projector is perfect for business collaboration meetings, presentations and training due to virtually no shadow and no glare from the projector onto the presenters face. The projector is mounted directly above the interactive whiteboard and its long lasting lamp and filter free design reduces maintenance costs. For more information, see SMART Projectors, and see docs/documents tab for technical specification.
FEATURES
Multitouch surface with object awareness
SMART's DViT (Digital Vision Touch) technology tracks and identifies the actions of two users simultaneously – it can recognise when users switch between a finger, a pen or eraser. Two users can also write with a pen, erase with their palms or fists and move objects with their fingers independently without having to press buttons or access on-screen menus.
Freestyle interaction
Two people can start working individually or together to complete actions such as writing in digital ink or moving objects with their fingers. It's perfect for collaboration and brainstorming activities.
Touch gestures
Our interactive displays offer the familiar experience of other touch enabled devices. They make it easy to work with content in an extraordinarily natural way using simple, intuitive hand and finger gestures, including one- and two-finger navigational gestures like panning and flicking pages, and object gestures like zoom, toss and rotate. They also support touch gestures found in Microsoft Windows 7.
Accessible collaboration features
All the tools that you need to interact are right at your fingertips. The pens and eraser are conveniently located at the front of the interactive whiteboard or flat panel and you can also access buttons to select the colour, launch the On-Screen Keyboard and use the right-click and help functions. You can connect USB devices and switch between them easily, and volume controls are located at the front for quick access.
Superior image quality
Each system includes an ultra-short-throw projector that virtually eliminates distracting shadows and glare. These HD-ready projectors display crisp and bright content in 720p resolution for viewers from almost every position in the room.
SMART Meeting Pro software
Included in every Freestorm system, SMART Meeting Pro softwareoffers advanced collaboration tools, virtually unlimited whiteboarding space and the ability to capture images and write notes over any application using SMART Ink. This intuitive software is also integrated with Microsoft Exchange to streamline your meetings and allow quick distribution of meeting notes.
Support for multiple displays
Connect up to eight interactive whiteboards and flat panels to a single computer. Users can write and share content and applications by "pushing" them out to any of the connected interactive displays.
SMART GoWire auto-launch cable
Connect a guest laptop to the interactive whiteboard and you can run SMART Meeting Pro software with no installation required. It's perfect for workspaces that are not network-enabled or where guest laptops are frequently connected.
Network-enabled projector
As a networked interactive whiteboard system, the 800 series has asset management features that enable you to control and manage the projector remotely.
Durable surface
The 800 series features a hard-coated, low-gloss steel surface optimised for both projection and easy cleaning.
Appliance-based model
The appliance based model of the SMART 800 Series, as with all SMARTBoards has now been discontinued. Please speak to VideoCentric for more information.
Why VideoCentric?
As a SMART Gold Business Partner, VideoCentric have been supplying and installing SMART Technology for over 10 years and are highly experienced in integration of SMART Boards within a business environment. VideoCentric are certified in Sales, Technical and Installation and specialise in integration with Video Conferencing and telepresence, multiway collaboration and development of interactive solutions for the industry. With highly trained SMART installers, SMART certified training courses and inhouse demonstration equipment, we can assist you with any of your collaborative needs. Contact us today to discuss your SMART collaboration requirements.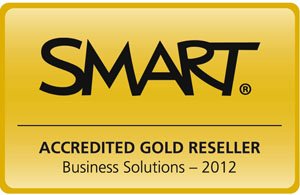 Techsheets
Product Technical Sheet
Size 78 1/2" W × 53 3/8" H × 6 1/2" D
(199.4 cm × 135.6 cm × 16.5 cm)

Active screen area (maximum
interactive projected image)
74" W × 46 1/4" H
(188 cm × 117.5 cm)
87" (221 cm) diagonal
16:10 aspect ratio

Weight 60 lb. (27.2 kg)

Shipping size 4 3/8" W × 56 3/4" H × 88" D
(11.1 cm × 144.1 cm × 223.5 cm)

Shipping weight
SBX885ix 1 unit:
90 lb. (40.8 kg)
SB885ix-SMP 1 unit:
95 lb. (43.1 kg)
SMART UX80 projector

Size 11 11/16" W × 7 3/4" H × 16 13/16" D
(29.7 cm × 19.7 cm × 42.7 cm)

Remote control 1 5/8" W × 3 3/8" H × 1/4" D
(4.1 cm × 8.6 cm × 0.6 cm)

Weight 19 lb. (8.8 kg)

Shipping weight 42 lb. 5 oz. (19.2 kg)

Shipping weight 18 3/4" W × 18 1/8" H × 22 5/8" D
(47.6 cm × 46 cm × 57.5 cm)

Extended control panel (ECP)–SBX885ix2 only

Size 6 5/8" W × 2 1/8" H × 4 5/8" D
(16.8 cm × 5.5 cm × 11.9 cm)

Shipping size 16 1/2" W × 14" H × 3" D
(41.9 cm × 35.6 cm × 7.6 cm)

Shipping weight 5 lb. 11 oz. (2.6 kg)