SMART Interactive Share Cable
Lync Room Systems now gain enhanced collaboration functionality by being able to share and interact with digital content in an entirely new way. With Meeting Pro Personal on the laptop, users can markup files and documents, write over any application and capture images into an advanced whiteboard platform. And gain access to the Unbound Workspace – the revolutionary and unique way to manipulate complex data, work with large scale images and plans; and never run out of space to create and innovate.
ABILITY TO WRITE OVER APPLICATIONS, DOCUMENTS, FILES AND WEB PAGES
Users no longer have to compromise on productivity and collaboration software, as users can utilise Meeting Pro to write over files and save notes into the native file format.
UNBOUND WORKSPACE
Utilise Meeting Pro to collaborate in the fourth dimension by working in the Unbound Workspace to create, share and interact with content.
TOUCH ON THE DISPLAY WHEN SHARING CONTENT
Touch and gestures enables users to interact in a natural, dynamic way with digital content.
Why VideoCentric?
As a SMART Gold Business Partner, VideoCentric have been supplying and installing SMART Technology for over 10 years and are highly experienced in integration of SMART Boards within a business environment. VideoCentric are certified in Sales, Technical and Installation and specialise in integration with Video Conferencing and telepresence, multiway collaboration and development of interactive solutions for the industry. With highly trained SMART installers, SMART certified training courses and inhouse demonstration equipment, we can assist you with any of your collaborative needs. Contact us today to discuss your SMART collaboration requirements.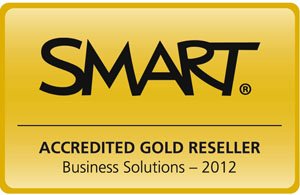 Related Solutions & Services