Half whiteboard, half ultra HD display. The SMART Kapp iQ Pro provides you and your teams even more ways to share your ideas with SMART Meeting Pro software, using all the great features and functionality provided the SMART kapp iQ board. Need to tackle your challenges and brainstorm? Use the blank canvas of the whiteboard. Need to present, review and share? Share your laptop in stunning Ultra HD resolution on the kapp iQ Pro.
Contribute from anywhere and share your notes with 250 people in real-time, worldwide.
Everyone can contribute using phones, tablets and PCs
Integrates with industry applications such as Adobe Illustrator, Tekla BIMsight and AUtodesk Navisworks
Share presentations, voice and video with SMART Bridgit or other Video Conferencing Technologies
Integrates with Microsoft Exchange and Office 365
Available in two sizes (55″ and 65″) 
The SMART kapp iQ Pro doesn't let down the experienced SMART users either. Using all the SMART technologies, such as Silktouch, Pen ID and Object awareness, the board responds in a way that you have come to expect and enables the most simple and intuitive collaboration available in the meeting room today. 
The SMART kapp iQ Pro comes with:
SMART Meeting Pro software 4.1
1 Room license
25 Personal licenses
3 year manufacturer display warranty
1 year VideoCentric & Steljes enhanced warranty
Cat5 extender
kapp iQ SoC (UGK-kappiQ-AM30)
Why VideoCentric?
VideoCentric are highly trained and certified to provide SMART interactive technologies for your organisation. VideoCentric have been supplying and installing SMART Technology for over 10 years in both the public and private sector, and are highly experienced in the integration of SMART Boards within a business or healthcare environment, alongside the more common SMART education applications.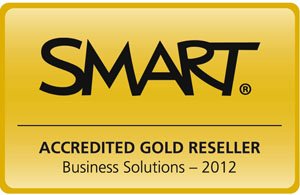 VideoCentric are certified in Sales, Technical and Installation and specialise in integration with Video Conferencing and telepresence, multiway collaboration and development of interactive solutions for the industry. We have a portfolio of 12 certified trainers located across the UK, and can provide certified SMART training for your users, administrators and trainers – speak to us today to arrange a visit and demonstration of the world's most collaborative interactive technologies.
Related Solutions & Services