An easy to use, modern replacement for traditional dry-erase boards and flipcharts, SMART kapp offers a leap in functionality and delivers reliable collaboration.
Bring your team collaboration into the 21st century. Capture, save and share your ideas digitally – just plug in and you are ready to connect! SMART Kapp behaves like any other dry erase board, with a dry erase pen and eraser, however allows you to directly share your content with colleagues, in the boardroom or across the globe.
Whether a colleague is using a desktop, laptop, or mobile device, they can access the content directly, and even if a remote user joins half way through the session, they can scroll back through snapshots they missed. Upload snapshots straight to the cloud, save to a USB directly from the board, email content as a PDF or save directly to your device. 
Watch this video to see how the SMART Kapp can assist you with your team collaboration:
With two models available, the SMART Kapp 42 (42″) and SMART Kapp 84 (84″), the Kapp provides a simple, secure and stylish solution for any meeting room and huddle space for more efficient brainstorming, faster decision making and more collaborative team work. 
Get started right away
Put it up. Plug it in. Create. Installation is that easy with no IT integration required.
Refined inking
Write with a normal dry erase marker and erase on the sleek surface without ever staining it.
Real-time sharing
Up to 250 participants can be invited to see content as it unfolds using any browser.
Easily save and share notes
Never take another blurry flipchart picture. Store content as digital snapshots on a mobile device and share them to your Evernote™, Google Drive™, Dropbox™ or other storage accounts on your mobile device.
Full data security 
Protect your content with a PIN code. Shared ideas and notes are immediately deleted when you disconnect your phone.
SMART Kapp App
Download the free mobile app and connect your smartphone or tablet to the board. Save the work to your device while sharing it to multiple devices in real-time, as it unfolds. Users can connect via the QR code, or pair a device by just tapping it on the board. 
 Why VideoCentric?
As a SMART Gold Business Partner, VideoCentric have been supplying and installing SMART Technology for over 10 years and are highly experienced in integration of SMART Boards within a business environment. VideoCentric are certified in Sales, Technical and Installation and specialise in integration with Video Conferencing and telepresence, multiway collaboration and development of interactive solutions for the industry. With highly trained SMART installers, SMART certified training courses and inhouse demonstration equipment, we can assist you with any of your collaborative needs. Contact us today to discuss your SMART collaboration requirements.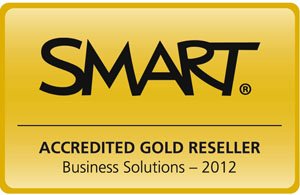 Related Solutions & Services