Polycom
No categories
Since its inception in 1990, Polycom has evolved to become a global leader in video conferencing and unified communications (UC) solutions with industry-leading telepresence, video conferencing, voice conferencing and video & voice infrastructure solutions—all built on open standards.
Polycom, built on internal development and acquisitions including ViaVideo, PictureTel and SpectraLink, is recognised for its innovation in video conferencing & collaborative solutions, and particularly around it's leading audio technology development, with numerous audio standards (Siren7, Siren14 and Siren22) based upon Polycom audio codecs. In 2012, Polycom relaunched their brand as a software company, whilst announcing a plethora of new & updated products including additions to the RealPresence Video Conferencing infrastructure platform alongside Cloud, Mobile & Desktop solutions.
Polycom also provide the largest portfolio of voice & video products optimized for use with Microsoft Lync Unified Communications Platform, including the CX series and the Polycom Microsoft Room System.
VIDEOCENTRIC AND POLYCOM 
VideoCentric's partnership with Polycom is built on a very strong and well established relationship built over many years of sales, integration, solution development & infrastructure support. VideoCentric are fully accredited with Polycom and hold certifications including RealPresence Video Conferencing Endpoints, RealPresence Infrastructure and Video Border Proxy (security). VideoCentric have specialists fully trained in Polycom Sales and Technical tracks, Polycom RealPresence and Polycom Video Networking. VideoCentric have scooped top Polycom awards for their extensive support and services offered to customers.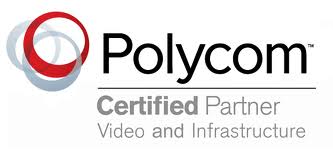 VideoCentric have a full suite of Polycom Video Conferencing Endpoints and Infrastructure Components for customers to see in action at their comprehensive Video Conferencing Demonstration Facilities in Wokingham, Berkshire. VideoCentric can also bring Polycom video solutions to your premise for demonstration from our experts, or organise a live remote demonstration session with multiple locations around the globe.  Many Polycom solutions can also be hired, leased or trialled on a daily, weekly or monthly basis. VideoCentric's leading Polycom Video Conferencing Solutions include:
Polycom RealPresence Group Series Video Conferencing Endpoints
Polycom RealPresence HDX Series endpoints
Polycom CMA & RealPresence Infrastructure Components
Polycom & Microsoft Lync integration
Legacy Polycom Solutions for comparison & interoperability demonstrations
Polycom SoundStructure & Audio Conferencing Solutions
Featured Products & Solutions
Related Services
Products & Solutions