Polycom (Plantronics)
No categories
Since its inception in 1990, Polycom has evolved to become a global leader in video conferencing, voice and content communications, with industry-leading telepresence, conferencing, collaboration, infrastructure solutions and services —all built on open standards. Polycom have recently been acquired by Plantronics, and as of 2019, will be part of the Plantronics brand. 
Polycom create innovative communications solutions to enable organisations of all shapes and sizes to collaborate remotely, improve communications across dispersed locations, increase productivity, reduce time-to-market and provide a better experience for everyone across their business.
With more than 400,000 companies and organisations worldwide using Polycom solutions, its global partner ecosystem provides flexible collaboration solutions that deliver the highest multi-vendor integration, broadest interoperability with the world's leading Unified Communications (UC) platforms, and extreme quality in video, audio and content collaboration.
Industry leading HD Voice innovations – Why choose Polycom for Audio?
Standards-based interoperability that is seamless and secure
40 solutions qualified for Microsoft Environments and Direct Integration with Office 365
HD Video and Content sharing solutions for the desktop, meeting rooms, boardrooms and mobile
With industry leading solutions including the RealPresence Group Series and Polycom Trio Conference Phones, VVX VoIP desk phones, RealPresence Clariti Video Infrastructure, RealConnect for Office 365, and Microsoft Teams interoperable solutions in the pipeline, Polycom is a leading choice for any organisation looking to improve communications across their workforce. 
VIDEOCENTRIC AND POLYCOM 
VideoCentric's partnership with Polycom is built on a very strong and well established relationship built over many years of sales, integration, solution development & infrastructure support.
Fully accredited with Polycom and holding certifications including RealPresence Video Conferencing Endpoints, RealPresence Infrastructure, RealConnect for Office 365, Microsoft Video and Voice Endpoints and Video Border Proxy (security). VideoCentric have specialists fully trained in Polycom Sales and Technical tracks, Polycom RealPresence and Polycom Video Networking. VideoCentric have previously scooped top Polycom awards for their extensive support and services offered to customers.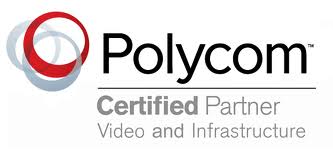 VideoCentric have a full suite of Polycom Video Conferencing Endpoints and Infrastructure Components for customers to see in action at their comprehensive Video Conferencing Demonstration Facilities in Wokingham, Berkshire. VideoCentric can also bring Polycom video solutions to your premise for demonstration from our experts, or organise a live remote demonstration session with multiple locations around the globe.  Many Polycom solutions can also be hired, leased or trialled on a daily, weekly or monthly basis. Our leading Polycom Video, Audio and Content Solutions include:
Polycom RealPresence Group Series Video Conferencing Endpoints
Polycom RealPresence HDX Series endpoints
Polycom RealPresence Infrastructure and RealConnect services
Polycom & Microsoft Skype for Business/O365/Teams integration
Polycom Trio, VVX, SoundStructure & Audio Conferencing Solutions
As a recent customer of VideoCentric within the legal sector, Technical Consultant from Doughty Street Chambers commented, "We were sceptical of Polycom at first – a previous deployment was poorly designed & implemented by an incumbent partner which didn't integrate with our Skype for Business or communicate through our firewall. However VideoCentric really spent time understanding our requirements and their professional design and installation has resulted in a flawless implementation. VideoCentric has changed our opinion of AV integrators and Polycom". Read the full story here.  
Featured Products & Solutions
Related Services
Products & Solutions