SMART Bridgit Conferencing Software
Collaborate with remote employees and participants in real time with SMART Bridgit™ conferencing software. The integrated application makes collaboration more engaging – your teams can work on the same content simulteneously and write directly on each others documents, no matter where you are. Connect between SMARTBoard Interactive Whiteboards, LCD displays, remote computers and iPads and integrate multipoint video conferencing to make the ultimate collaboration solution.
Write on shared desktops

Collaborate from iPads
Integrate with video conferencing
Integrate with MS Office & Outlook
Cloud solutions available
Secure & encrypted
Collaborate face-to-face with more people in more places with SMART Bridgit conferencing software. The latest version supports up to nine webcam video streams, making it easy to hold meetings that are visually engaging, dynamic and interactive. Meeting participants anywhere can work together as if they are in the same room.
Bring everyone together
SMART Bridgit conferencing software enables you to collaborate with meeting participants anywhere in the world. The Bridgit software supports up to nine video and audio streams. Local and remote teams can talk face-to-face, share content, interact on the same documents and work collaboratively to make decisions and solve problems.
Encourage meeting participation
SMART Bridgit software ensures everyone can actively participate in the meeting. SMART Bridgit connects teams in a shared collaborative space, where everyone can see, take and write notes and make changes and edits easily. Meeting participants can share their own desktops and laptops, write over remote applications with SMART digital ink and use integrated audio and instant messaging for holding discussions and sharing questions.
Join the meeting from your iPad
The SMART Bridgit® for iPad app allows you to easily participate in meetings using your iPad tablet. The app supports iOS6.1.2. First generation iPads are also supported with iOS5.1.1.
Interact with data and content presented on an interactive display
Knock to join in your meeting
Fully participate in the meeting wherever you are, by asking questions using a raise your hand feature
Multitask on your iPad whilst remaining in the SMART Bridgit meeting
Integration with Microsoft Outlook
Using Microsoft Outlook makes it easy to schedule meetings, which can be turned into collaborative sessions with a single click. Participants can use SMART Bridgit software in the meeting to access video and audio controls, participant lists, instant chat and other tools. 
Why VideoCentric?
As a SMART Gold Business Partner, VideoCentric have been supplying and installing SMART Technology for over 10 years and are highly experienced in integration of SMART Boards within a business environment. VideoCentric are certified in Sales, Technical and Installation and specialise in integration with Video Conferencing and telepresence, multiway collaboration and development of interactive solutions for the industry. With highly trained SMART installers, SMART certified training courses and inhouse demonstration equipment, we can assist you with any of your collaborative needs. Contact us today to discuss your SMART collaboration requirements.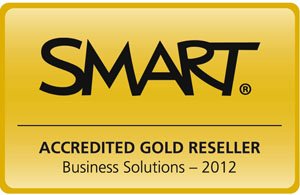 Related Solutions & Services